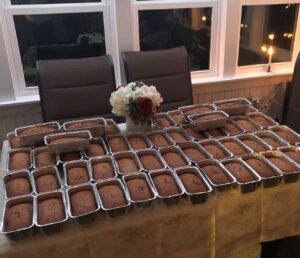 Dave and Gerry have been baking big batches of this pumpkin bread for many a Thanksgiving. If you were not lucky enough to receive one directly from them, you're in luck. The share the recipe here.
Preheat oven to 350
Sift together,
1 ¾ cups of all-purpose flour
¼ teaspoon double-acting baking powder
1 teaspoon baking soda
½ teaspoon salt
¾ teaspoon cinnamon
¼ teaspoon ground cloves
¼ teaspoon nutmeg
In a large bowl, beat together until light and fluffy,
1 1/3 cups of sugar
1/3 cup of shortening Crisco is my choice
2 eggs
Add and beat in,
1 cup cooked or canned pumpkin
For cooked pumpkin, cut in half and scoop out the seeds and attached strings.  Bake pumpkin upside down on cookie sheet at 350 for about an hour depending on size.  When cooled, scoop out and puree the fresh pumpkin.
Now add the sifted dry ingredients in 3 additions alternately with,
1/3 cup milk
(1 teaspoon vanilla optional) I always add.
Do not overbeat between each addition.  If desired fold in.
½ cup coarsely chopped walnuts
1/3 cup raisins or chopped dates
Pour batter into a greased 9 x 5-inch loaf pan and bake about 1 hour or until bread tests done.
"The Joy of cooking" 
Happy Thanksgiving, Dave, and Gerry.